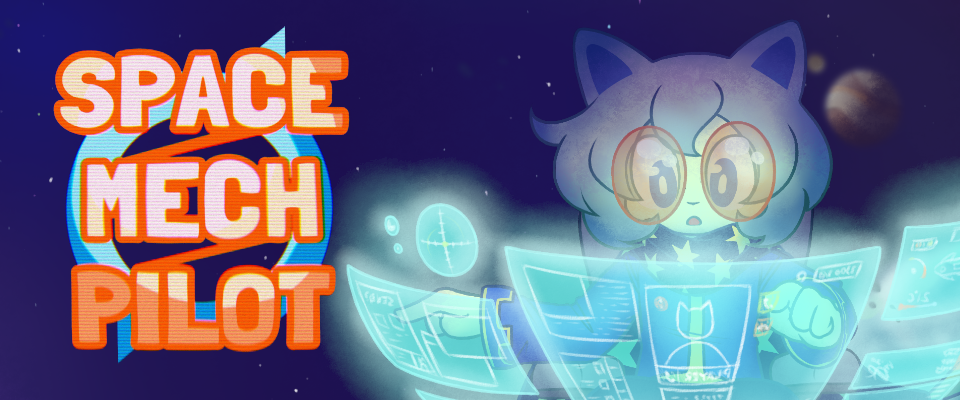 SPACE / MECH / PILOT
Hey Pilots!
PATCH V1.05 is LIVE! It's a relatively small patch, so here's the list of changes:
=PATCH V1.05 CHANGES=
(SPOILER WARNINGSSS)
- Likely not noticeable or visible to any players, but all of the game's files are now more properly organized pre-compilation and several objects received updating commenting in code.
- The default ATK key at the start of a fresh save will now be configured on how often the player fired the Mouse Key (if you fire the mouse key 5+ times it will be the starting default). Let me know if this has any issues! (this wasn't entirely tested lol)
- (RANK 1-10) R. Bonus will display as "COMPLETE" upon reaching max Therapeutics.
- (RANK 4) Fixed a grammatical error in one of Kato's lines.
- (RANK 5) When F. BOOST is fully charged, the text near the bar will display as "MASH THE ATK KEY".
- (POST GAME) The number of times the player has to press confirm to rewind now resets properly!

Wanna see how the game's made?
I livestreamed myself working on PATCH V1.05 earlier today! As the first SPACE / MECH / PILOT stream, I showed viewers various parts of the game from behind the scenes and properly commented / cleaned up my (very) messy code. I also re-organized files as mentioned in the patch notes and talked extensively about the implementation of various game mechanics, as well as discovering and discussing cut upgrades and features from the game!
A NOTE: IF YOU HAVE NOT FINISHED THE GAME, I HIGHLY RECOMMEND FINISHING THE GAME FIRST! The stream heavily features spoiler content.
You can view a live VOD of it here:
https://www.twitch.tv/videos/780704476
(A VOD will also be uploaded to my personal YouTube channel shortly. Also, I'm streaming again on Twitch on the 31st to play some horror games! might be fun maybe)
If you're interested in seeing more + want to see more livestreams, let me know! I might do more documenting/code cleaning on the project sometime in the future.
And lastly...
A huge thank you to EVERYONE who's played the game! We can confirm the following:
- SPACE / MECH / PILOT has reached over 10k Steam units/downloads!
- Has over 4k confirmed pilots on the leaderboard!
- Has over 56 confirmed ULTRA (5k) pilots!
- Trended on the "Free-To-Play", "LGBTQ", "Clicker", "Colorful", and "Time Manipulation" tags!

It was already SKY HOUR WORKS' most popular release a week ago - but now it's exceeded beyond that! Regardless of how you feel about the adventure - I seriously thank everyone who gave our fun, small project a try. I can't confirm anything about the future of SPACE / MECH / PILOT yet right now - but trust me when I want to say this more than ever: there's so much more we could do with this project.
Just in case you aren't in the know - by the 30th, I'll be setting up a patch that should tighten save security and prevent cheating. Hopefully things should be better by then (they've been stabled since!)
And last of the lastlys -if you enjoyed the game, please consider picking up the game's Supporter Pack DLCs! They're finally on the main Steam store page now, hooray :>
https://store.steampowered.com/bundle/16475/SPACE__MECH__PILOT_V10__THE_UNIVERSE...
Once again, thanks!
-Jeff
Files
SPACE / MECH / PILOT - Windows V1.05
89 MB
Oct 24, 2020