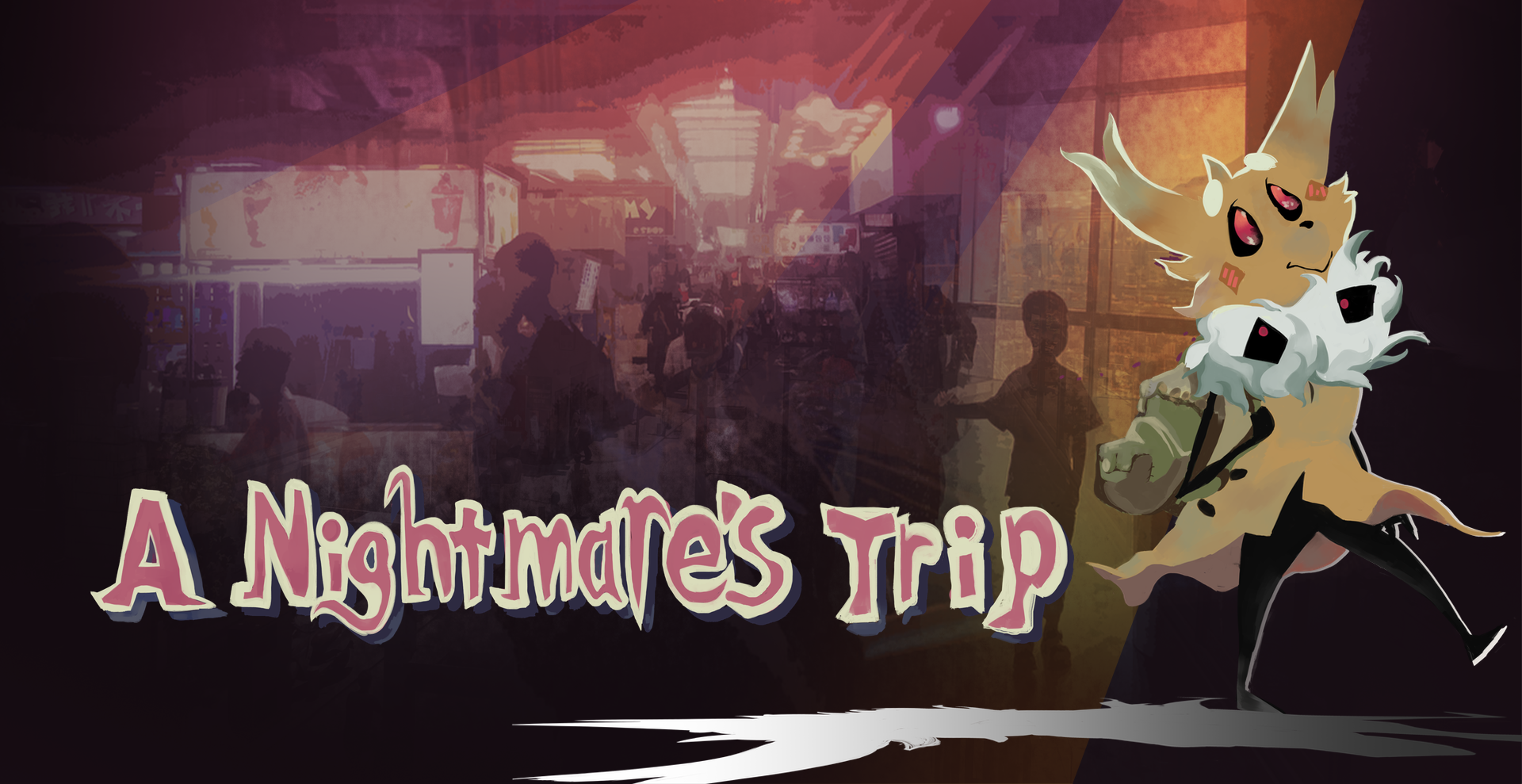 A NIGHTMARE'S TRIP
A downloadable game for Windows, macOS, and Linux
Get this game and 173 more starting at $0.00
View bundle
Adrien, a creature born of a young boy's nightmares, takes a little summer vacation.
A NIGHTMARE'S TRIP is a short visual-novel game from the development team behind RE: DECEIVED VOICE. Meet strange new characters. Tour around a colorful city. Turn the nightmares of the past into a fantastical dream made real.
Features:

Enjoy a 2-3 hour narrative set in familiar places!
Featuring original art from Moxie Riles (RE: DECEIVED VOICE), Christina Crichlow (Blissful Madness), and Aaron Yoder!
Kinectic Storytelling - To the whim of several dialogue choices, change the story in subtle ways!
Meet a demon from hell! And play pachinko together?
Resolve (temporarily) sibling troubles, commit gay crimes, get chewed out by Gaoma, and more!
Steam keys for itch.io users!
For an additional $7 (USD), you will acquire A NIGHTMARE'S TRIP - FULL ITINERARY EDITION, which comes with both the game and the "Carry-On Luggage's Contents", including the following:
A NIGHTMARE'S TRIP - Yume's Sketchbook (Digital Artbook PDF)
A NIGHTMARE'S TRIP - CAMERA ROLL (Folder containing high quality CGs/backgrounds!)
A NIGHTMARE'S TRIP - Tunes 4 Trip (Soundtrack Sampler, containing 3 tracks by Arachnibot!)
The soundtrack is available now on Bandcamp!
If you enjoy the game, please consider supporting our ongoing projects via Patreon! We're just getting started - with you, we can change the world! (probably)
Purchase
Get this game and 173 more starting at $0.00
View bundle
In order to download this game you must purchase it at or above the minimum price of $8 USD. Your purchase comes with a Steam key. You will get access to the following files:
A NIGHTMARE'S TRIP 1.1.4 - PC
412 MB
A NIGHTMARE'S TRIP 1.1.4 - MAC (Unnotarized)
394 MB
A NIGHTMARE'S TRIP 1.1.4 - LINUX
378 MB
A NIGHTMARE'S TRIP - CARRY-ON PACKAGE BONUSES
123 MB
if you pay $15 USD or more
Comments
Log in with itch.io to leave a comment.
Your game looks really nice, too bad I don't have the money

: (

Hey! The game's in the GDC Relief Bundle right now - you can get the game and 166 other games for whatever amount you donate (and it can be a low amount if you don't have a whole lot) - plus you're helping a good cause https://itch.io/b/471/gdc-relief-bundle
thanks ..:) but it says 100% off for "stay at home" but can't take it...
It was only available for free for 24 hours, sorry! I can send you a key if you really want to play it
Same happened to me, haha. Ur style is very reminiscent of Floraverse, btw! :D
Please DM us on twitter @SKYHOURWORKS and I can sort something out.
Also, that's awesome to hear! Moxie, the game's lead art director is a huge fan of Floraverse.
hi, yeah if you can send me a key :) very happy to test it :) many thanks for all :)
Please DM us on twitter @SKYHOURWORKS and I can sort something out!