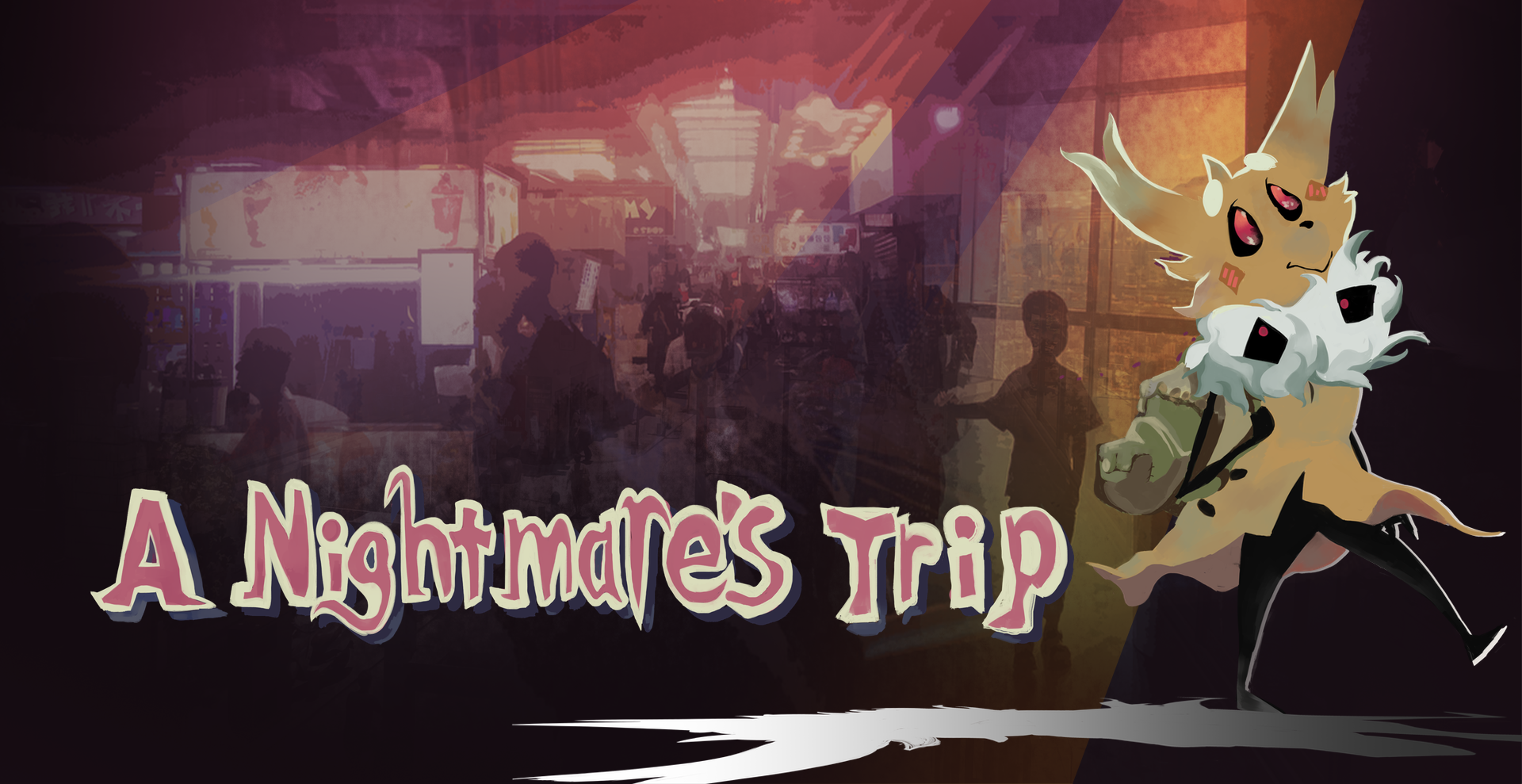 A NIGHTMARE'S TRIP
A NIGHTMARE'S TRIP IS NOW BOARDING
---
After 4 months in development, A NIGHTMARE'S TRIP is now available for PC/Mac*/Linux!
Thank you everyone for your support! We hope you enjoy the game, and if you did, we also highly recommend now picking up the CARRY-ON PACKAGE BONUSES (or both the game + dlc together as the FULL ITINERARY EDITION) to support us on our future projects~
For patrons/media playing the past few days - here are the full patchnotes of all versions of the game prior to our launch 1.1.0 version -
Replaced the background in the title screen with a video!
Fixed an error present in the Chapter 5 Title Card.
Fixed multiple instances of text going outside of the textbox.
Fixed multiple grammar/spelling/punctuation errors.
Adjusted the Support Us page
Added a missing "Phone Charger" image
Updated Riley's Pose
Fixed several backgrounds being too large
Edited several background details
Fixed several crashes in an alternate path of Chapter 5
Fixed errors with overlapping UI
Fixed several issues concerning the Credits Screen
Known Issues:
macOS users will not be able to play the game if they update to Catalina as a result of the game not being notarized by Apple. We do not have an estimate ETA regarding this fix, unfortunately.
The video background and main menu track repeats upon returning to the main menu
Adrien's ears clip through the textbox during his embarrassed pose
Have a safe flight!
-Jeff
Files
A NIGHTMARE'S TRIP 1.1.0 - PC
412 MB
Oct 05, 2019
A NIGHTMARE'S TRIP 1.1.0 - MAC (Unnotarized)
394 MB
Oct 05, 2019
A NIGHTMARE'S TRIP 1.1.0 - LINUX
378 MB
Oct 05, 2019
A NIGHTMARE'S TRIP - CARRY-ON PACKAGE BONUSES
123 MB
Oct 05, 2019